Best Cat Litter Subscription Services
| | | | | | |
| --- | --- | --- | --- | --- | --- |
| Product | Boxiecat | Catalyst | Cocokitty | Pretty Litter | Skoon |
| Material(s) | Clay, Plant-based | Pine Woftwood | Coconut Pith | Silica Gel | Diatom Pebbles |
| Clumping? | Yes | Yes | Yes | No | No |
| Special Feature(s) | Probiotics | Natural Scent | Flushable | Color-changing according to pH | Color-changing, Heat-activate |
| Price | $$-$$$$ | $$$ | $ | $$$$ | $$$$$ |
We all have memories of heading to our local pet store and lugging a heavy box of cat litter back to our car.  In fact, sometimes we opted for a certain type or size of cat litter simply because it was easier to carry!
Like many things, times are changing.  Doing a bi-weekly run to the local pet store has oftentimes been replaced by making a couple of clicks on our keyboard.  Having to choose between just 4 or 5 different cat litter products has been replaced by literally hundreds in various sizes and price points.
But something that is still relatively new to a lot of people is the many cat litter subscription services that have rolled out over the past few years. 
The way that these cat litter subscription services work is pretty simple:
-You pay a monthly fee that is typically automatically charged to your account at the same time each month
-depending on the specific service that you are paying for, you will get one or more containers of cat litter delivered to your door each month (or in some cases, sooner)
-the cat litter is oftentimes designed to last the duration between your next batch arriving.  In other words, when your new package comes in the mail, you simply toss out the cat litter that you have been using and replace it with the new cat litter that just arrived
Avoiding the hassle and effort of driving to your local pet store and having to transport those heavy cat litter boxes back home is a huge plus and certainly one of the big reasons why cat litter subscription services have increased in popularity.  Below we will go over some more pros (as well as some cons) that we have identified with using a subscription service instead of buying your cat litter in a more traditional way.
Pros of Cat Litter Subscription Services
Less strain in transportation
Easily the biggest positive is what we mentioned above.  Having those bulky containers delivered to your doorstop makes it much easier on you (and your back!).  For some people such as the elderly and/or people with physical limitations, this may be the only realistic option.  Another positive is the reduced strain on your wallet as it relates to gas and wear/tear on your car.  That being said, you may end up paying this back when it comes to shipping.
Built-in reminder to replace cat litter
Another good benefit to these cat litter subscription services is their timing.  We have all likely been guilty of forgetting to replace our cat's litter box in a timely manner.  Whether it is because of being overloaded at work, traveling, busy with the family, or a plethora of other reasons, there have probably been some occasions where we let the cat litter run a few days too long.
By having the cat litter arrive at your door when it needs to be replaced, this is essentially a built-in reminder that you need to perform this act. 
Less litter box maintenance
Many of these cat litter services are also set up where you don't even need to remove cat litter waste.  By the time the new batch arrives at your door, it is time to simply replace the entire cat litter box worth of litter with a fresh supply.  There are exceptions to this, however, as there are options for clumping-style cat litter which will still likely require you to remove clumps in a timely manner.
Cons of Cat Litter Subscription Services
Can be more expensive
Using some of these subscription services can be a pricier option than going with your traditional budget cat litter from the store.  This can be due to multiple factors.  First, you are having to pay for shipping on the cat litter.  And since cat litter tends to come in large/heavy packages, the shipping costs aren't cheap. 
Also, many of the cat litter delivery services sell "specialty" cat litter. These are cat litters that are made of unique materials such as silica gel, specialty minerals, and even coconut!  Part of the reason that many of these brands go with such specialty products is that they are more lightweight.  But it also means that the costs to produce them are likely higher as well.
For some people on a tight budget, many of these subscription services may simply be out of reach.
Limited product selection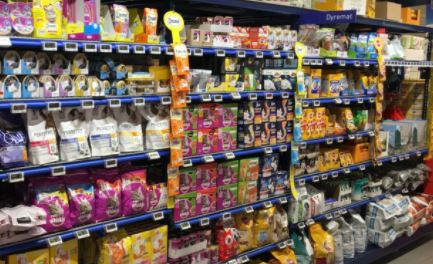 You won't find as many different litter product choices if you decide to go with a subscription service.  Most of the companies that offer this service only have a small number of products to choose from.  That being said, more traditional online pet retailers are also setting up "subscription services" in the sense that they will automatically send you a certain product at a specified interval.  If you decide to go this route, then you should have the same product choices that you would if you were buying your cat litter in a typical manner.  But for the focus of this article, we will primarily be focusing on brands that mostly specialize in just subscription options.
Have to remember to end subscription service
If you decide to try out a cat litter subscription service, you will need to be more diligent in keeping up with it.  Otherwise, you may find that the company charges your account every month even if you didn't actually want to purchase anything that particular month or after a period of time. 
You will have to go in and cancel your subscription.  While most companies that we have reviewed make this process pretty easy, they certainly won't remind you to do it!  So that task will be on you to manage.
Now that we have gone over some general information on how cat litter subscription services work, some pros, and some cons, we will go over a few of the most popular and best cat litter subscription services available.
Pretty Litter
We have had good experiences with Pretty Litter cat litter.  In fact, you can read our full review on Pretty Litter here.
Pretty Litter cat litters are made of a special silica gel compound.  You may have heard of silica gel cat litters also referred to as crystal cat litters. 
Cat litters made of silica gel typically excel at odor control and moisture absorption at the sacrifice of clumping ability.  And all of those are the case here with the Pretty Litter cat litters.
But one way that Pretty Litter stands out from other silica gel cat litters is in its color-changing ability.  This cat litter will actually change color according to the pH of your cat's urine!  This can help to identify potential health issues early on so you can quickly address them with your veterinarian.
Daily maintenance would only involve mixing the litter together and removing solids on a regular basis.
Each bag of Pretty Litter Cat Litter is designed to last approximately one month.  And at the end of the month, you will simply replace the entire contents and fill when the new container arrived in the mail.
The price at the time of this article is around 22 dollars per month per cat.
Kitty Poo Club
Kitty Poo Club has multiple offerings in their subscription service.  You can currently choose from 3 different types of cat litter: fine-grain silica gel, regular silica gel, and organic soy.  Each of these litters come with their own unique pros and cons.
The silica gels, as per normal, excel in odor control.  They also have lower dust levels than many traditional cat litters.  However, they do sacrifice clumping abilities and they track easier.
The tracking in particular can be notable in the fine-grain silica gel version.  But we have received positive reviews that the fine-grain silica gel cat litters are really comfortable for cat's paws and do an even better job at odor and moisture control due to increased surface area due to the smaller grain size.
The organic soy cat litter by Kitt Poo Club takes a totally different approach.  It has great odor control, lower tracking due to the larger granule size, and has a pleasant earthy smell.  But it also foregoes the clumping ability and isn't quite as good at moisture absorption as the silica gel counterparts.
One aspect we really like with Kitty Poo Club is that the cat litter comes in a recyclable litter box that you simply throw away at the end of the month. 
The price per cat per month falls at around 22 dollars per month at the time of this article.
Skoon Cat Litter
Skoon Cat Litter is another brand that we have personally had a lot of success with.  If you want to read our more thorough review on Skoon Cat Litter, check it out here.
Skoon is a brand that attempts to stand out from the masses thanks to a unique litter ingredient.  These litter granules are made of what is called diatom pebbles.  Diatom is a replicated sponge-like structure.  It has a lot of surface area which makes it great for moisture absorption and, in turn, cat waste odor absorption.
 To add to this, the material is heat-activated from the factory which is said to further enhance its absorption capabilities.
There are some minor negatives, however.  This litter does not have a clumping ability.  You are expected to remove solids daily.  Also, due to the relatively small and lightweight characteristics of the granules, they can track quite a bit.
There are multiple options for your monthly delivery.  One popular and convenient option is where the litter comes in a pre-made box.  After 2 to 3 weeks, you simply toss the box away along with its contents. 
The other option is where you receive just a package of the litter but no disposable litter box. This is the better choice if you want more cat litter. The container contains 8 pounds of product compared to just 4 pounds if you choose the disposable litter box option.
The giveaway for when you need to replace the cat litter is when the pebbles turn an off-white color.  Depending on the size of your cat, their diet, and the frequency of their use, this can range from 2 to 4 weeks.
The price for both options is currently 24.94 per month.  This makes it one of the more expensive options available right now.  But there is no denying the performance of this cat litter!
Coco Kitty
As the name likely gives away, Coco Kitty Cat Litter is made of a rather unique ingredient: coconut.  Specifically, it is made of coconut pith.  Coconut may not come to many people's minds when they think of cat litter, but it does have an inherent ability to soak up moisture and odors.  Also, it is one of the few "specialty" types of litter materials that retain clumping ability. 
That being said, you still will need to remove solids in a timely manner.  For liquids, you just need to stir the contents around every day or so. 
Another nice benefit of Coco Kitty Cat Litter is the ability to flush it. While we always recommend throwing away the litter if you are able to, it is nice to have the option to flush if the situation requires it.
One package of Coco Kitty Cat Litter will last for around 1 month for a typical cat.  And with an asking price of $16.99 per container per month, it is a little cheaper than some of the other brands we discuss in this article.
Boxiecat
Boxiecat is another brand that we have had a direct, positive experience with.  From a product standpoint, Boxiecat has one of the largest selections of cat litters out of all the brands we are reviewing.  These products include traditional clay cat litters and their lightweight cat litters (which are made of non-clay, plant-based materials).
Boxiecat's clay litter choices include Scent-Free, Gently Scented, Extra Strength, and Deep Clean.  Their non-clay options include Air Gently Scented, Air Extra Strength, and Lightweight Deep Clean.  One unique attribute of their non-clay litters is that they still retain clumping ability.  Although the clumps may not be as impressive as in Boxiecat's clay offerings.
Their highest-performing products are dubbed "Boxiepro". Boxiepro takes the proven Boxiecat recipes and adds in extra probiotics and their trademarked AirTight clump technology.  These help to maximize odor control and clumping.  
The bags come in at around 6.5 pounds and are designed to last one month for one cat.  At the end of the month, you toss the contents and refill with a new bag.
Current prices vary from $19.99 per month up to $21.99 per month. 
Catalyst Cat Litter
We only recently learned of Catalyst Cat Litter.  They currently have 3 products to choose from and all 3 are made of upcycled pine woftwood.  We love wood-based cat litters because of their eco-friendly nature and great natural scents that they put off.  Catalyst Cat Litters also used special wood blends that retain the clumping ability.
The 3 product choices include Healthy Cat, Multi-Cat, and Unscented.  The Healthy Cat and Unscented brands have similar performance (with the scent obviously being the defining characteristic) while the Multi-Cat formula has more advanced clumping capabilities.
Overall, there is very little dust across all options.  Due to the lightweight nature of the wood used, tracking can be a little worse than other litters on the market but it is by no means a deal-breaker.
A bag of Catalyst Cat Litter weighs 10 pounds.  This 10-pound bag will last approximately 1 month and, similar to other litters on this article, you are expected to replace this bag with a new bag once it is delivered.  The asking price for 1 bag is about 20 dollars.
Litter One
Litter One is another brand that we only recently discovered.  This is another brand that is trying to break into the market of subscription cat litter services.  And from the feedback that we have received so far on them, there is nothing but positives to say.
One unique aspect of Litter Once is that their litter comes pre-packaged in a disposable litter box.  At the end of the month, you simply toss the box and its contents and open up a new box with fresh cat litter.  But that doesn't tell the full story.  Litter One has special litter boxes that have space underneath the litter.  As your cat urinates on the pellets and the liquid is absorbed, it converts the pine pellets into sawdust.  This sawdust is able to fall in between the narrow grates and to the cavity underneath.  This helps to prolong the life of the litter and also reduces the mess.
Litter One's cat litter is made of pine pellets.  So there are some similarities to other wood subscription services like Catalyst Cat Litter.
But Litter One does take a more traditional approach and doesn't offer traditional clumping litter.  You are expected to remove solid waste (preferably at least once per day) and then mix in liquids to help absorb them into the wood pellets.
Another nice bonus when you order Litter One is that it also comes with 30 waste bags and a scoop.  So you get the really neat disposable box with grate system, pre-filled litter, 30 bags, and a scoop each month.
All of this can be had for a current price that is right under 23 dollars per box per month. 
Final Thoughts
We hoped you found value in our roundup of the best cat litter subscription services.  Due to the hassle of having to physically go to the store and lug back heavy cat litter boxes, more and more people are opting for delivery services.  Not only do these services take out the burden of buying these large containers yourself, but they also have built-in reminders so that you know when and how to replace your cat's litter.
Due to the increasing popularity of this system, you also have many more cat litter options to choose from.  There are clays litters, wood, silica gel, and more.  And some of these utilize special features such as color-changing elements, probiotics, and advanced clumping ability.
That being said, there are still some challenges.  For those on a tight pet budget, these delivery services may be too out of reach.  Part of this has to do with the built-in costs associated with shipping these heavy packages.  And for those that like to buy in bulk or have many cats to take care of, the prices will creep up even higher.  You also have to stay on the ball about the subscription service or else you will be charged monthly even if you weren't wanting another delivery that soon or at all.
But overall, we feel that there is definitely a place in the cat litter industry for these delivery services.  And due to recent COVID-19 issues and people having to balance busy work lives, we anticipate the popularity continuing to grow.