Best Cat Litter Box Furniture

Updated by Brandon F. on May 7, 2020
Having a proper cat litter box goes hand-in-hand with using a great cat litter.  The best cat litter in the world won't amount to much if you don't have a litter box that is enjoyable for your cat.
But let's face it: cat litter boxes typically aren't exactly the most attractive products in the world.  They can take up valuable floor space, be messy, and their plastic lining can clash with the quality wood, metal, and fabric furniture that is in a typical home.
One solution is to hide your cat's litter box in a closet or low-traffic room.  But that can mean longer walks for litter box maintenance.  And if you are in a smaller home/apartment or if you have a large family, there might not be such a thing as a low-traffic room!
The other solution is to embrace the fact that your cat's litter box is going to be part of your home and find ways to make it work with the overall aesthetic that you are going for.  This is where cat litter box furniture comes into play.
This article will discuss the pros and cons of litter box furniture.  We will also provide a few of our favorite pieces of litter box furniture.  Below is a table that shows a few of our top choices:
Model
Internet's Best Decorative Cat House & Side Table - Cat Home Nightstand - Indoor Pet Crate - Litter Box Enclosure (Espresso)
Merry Products Cat Washroom Bench, White
Merry Pet Cat Washroom/Night Stand Pet House, White
The Refined Feline Reversible Cat Litter Box Enclosure Cabinet, Modern Style Hidden Litter Trays Cat Furniture
Petsfit Sturdy Solid Wood Litter Box Enclosure-Home Decorative Cat House & Side Table-Kitty Washroom - Modern Double-Layer Night Stand,Milk White,21"×23"×35"
Area to Store Litter Accessories?
---
Benefits of Cat Litter Box Furniture
Cat litter box furniture combines the functionality of a litter box with the attractive styling of a cabinet, table, or even things such as plant vases.  The result is a litter box that complements your home and, in many cases, would blend into the point that it may be undetectable by a passing guest.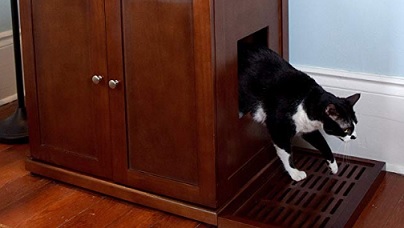 This is great for you as the homeowner but it can also be beneficial to your cat as well.  Many cat litter box furniture pieces essentially conceal the litter box thanks to clover doors, walls, or flaps and you can also make this furniture look great using new seals with the use of Mica Powder Pigment for this.  This gives your cat more privacy when they are doing their bathroom business.  This can help promote them to not go outside of the box and it also can make introducing new types of cat litter much less stressful.
---
Challenges of Cat Litter Box Furniture
Like many new products that you introduce your cat to, it can take some time for your cat to adapt to them.  If you have a particularly shy cat, you will need to be patient when introducing them to a new cat litter box furniture piece.  A cat going to the bathroom is a very private affair (just like it is for us!).  Imagine if you came home one day and that bathroom that you have been used to for years was suddenly in a different room, behind a strange door, and different colors!
Because of this, we recommend slowly acclimating your cat to any new litter box or litter box furniture.  This begins by simply moving the litter box near the new furniture (or vice versa) so that they can get used to associating their litter box with this new object.  After a few days, try putting their litter box inside the piece of furniture.
If the piece has a removable lid or a door, try opening it to show your cat that there are easy methods to escape if they feel unsafe.  Only after your cat appears to be comfortable being around and using the new furniture should you close everything up.
The other major hurdle with litter box furniture is that accessing the litter box may require a bit more effort.  Since the litter box isn't simply sitting on the floor, you may have to open a door, slide out a drawer, or lift a lid to access the litter box.  Some litter boxes have implemented clever sliding drawers or faces that fully open to make this process easier, however.
And if you are cat tends to track litter outside of the box, the litter granules may fall inside the litter box furniture which can be more difficult to clean than a typical floor.
Now that we have gone over some of the pros and cons of litter box furniture, we will list out a few of our favorite picks.
---
Internet's Best Decorative Cat House & Side Table
This is one of the most popular pieces of cat litter furniture online and for good reason.  It combines attractive styling, simple design, and a very reasonable asking price.  It comes in both brown and white and the walls are made of quality stained wood.  For accessing the litter box, you simply open the hinged door, and when you want to close it, the magnets attached near the door help to provide a secure closure.  And you will find 9 ports on the back of the table that is used for ventilation purposes.
At the top, you will find an ample 20" x 19" counter that you can place magazines, lamps, plants, or anything else on.  This further helps to blend this in with the rest of your home.  We have even seen people use this is a nightstand if their cat likes to sleep with them or close to them.
The only complaints that we have heard are that the access door may be a bit too low for litter boxes with high walls.  So if you prefer cat litter boxes with high walls (which is common for cats that tend to kick a lot while using their litter box) then be sure to measure the wall height to make sure that it will clear the base of this entry door.
---
Merry Products Cat Washroom Bench
Merry Products takes the table idea and supersizes it.  The result is a product that they have dubbed their Washroom Bench.  This Goliath comes in at a hefty 35" long and 20.20" deep making it capable of handling even the largest of cat litter boxes.  It is large enough to even be able to handle many types of automatic litter boxes.  It is available in two colors: white and walnut.
For those with a normal-sized litter box, the included divider can be put up that allows for you to also store your cat litter bag inside in the remaining space.  This makes this litter box furniture piece an "all-in-one" package.  And for even more flexibility, the access door can be installed on the other side of the box.  This is helpful for those who want to put their litter box furniture against a certain wall which would block one side from being able to be used.
Being a larger product, you will pay a bit more for this.  And for those who prefer a front-entry to the litter box, you will be out of luck.  But in terms of sheer storage space, this is one of the best.
---
Merry Pet Cat Washroom
Another popular seller, Merry Pet combines the best features of a nightstand, tabletop and, washroom into their clever litter box furniture piece.  Specifically, you will find two different flat counters that you can place items on, a front-access door, and even a side rod that you can hang a towel off of.  And at just 18.5" x 16.5", it takes up little floor space and can be stuck in just about any corner that you have available.
In terms of sheer styling, this is one of our favorite products.  It comes in three different color choices: White, Walnut, and Espresso.  And since it is so versatile and stylish, it will blend right in just about any setting: bedroom, living room, kitchen, and even a bathroom!
Being a more compact design, you will be a bit more limited in what size and type of litter boxes you can fit inside.  If you happen to have a larger multi-cat litter box or an automatic litter box, be sure to measure it beforehand to make sure that it will work inside.
---
Refined Feline Refined Litter Box
As the name suggests, the Refined Feline Litter Box is designed for someone with more refined tastes and wants litter box furniture that reflects that.  This product comes in two color choices: Mahogany and Espresso and is comprised of attractive wood panels that resemble typical wooden tables that you see in many homes.  The double swing doors in the front look so similar to a typical cabinet that many people will not even know that it is designed for your cat!
The main selling points of the Refined Litter Box are in the details.  It is large enough to accommodate nearly even large and jumbo-sized litter box (offering up over 31" of width and 20" of depth).  And for easily accessing, cleaning, and removing the litter box, there has been a sliding litter liner that can be pulled out and pushed in similar to a traditional drawer.  This makes typical litter box maintenance (which can be more of a challenge when using litter box furniture) much easier and less of a strain on your back.
Other clever features include an optional side litter catch piece that will catch any litter that your cat tracks out of the litter box, a separate top drawer for storing various cat supplies, and even slots on the back that can hold universal carbon filters to help combat cat waste odors!  There is a lot to get excited about here.
There only potential issues that lie in the price and assembly.  The asking price, while still reasonable, does creep up compared to most of the other products that we are listing here.  Also, there have been some comments about pieces not assembly flush or not being up to the quality that you would expect.  However, the quality issues are not overly common so don't let it scare you away from this great product.
---
Nora Designer Litter Box Chest
Let's face it: some people simply don't want to deal with the headache of bending down to access a litter box from a front-opening cabinet.  It can be much easier to be able to simply lift and clean the litter box from the top.  Designer Catbox has you in mind with their Nora Designer Litter Box Chest.
An attractive piece, it is sized so that it can be used as anything from a nightstand to a side table.  And with the built-in walls on the top, it adds a stylish flair that helps to make it stand out from many of the more mundane models on the market.  And being on the larger side, it can also accommodate most sizes of litter boxes (even larger multi-cat examples).
But the most notable feature is the top-access door.  While most cat litter box furniture pieces require you to open the front to get to the litter box, this litter box chest lifts, giving you quick and easy access to everything below.
Also, there is an included divider with another cathole that can be placed inside.  This doubles as both a great place to store the cat litter bag and/or scoop as well as a protective barrier that will make your cat feel extra secure and private while they do their business.
There have been some complaints related to the quality of the pieces.  This can include screws being too long and panels not being up to spec so be sure to inspect all of the items closely before beginning assembly.
---
Petsfit Double-Decker Pet House
We all know how much cats love to climb.  So why not combine their joy of climbing with a clever way to house their litter box?  Petsfit had exactly this in mind when they designed their Double-Decker Pet House.
Inside you will find two different platforms: a top platform with the actual entry door and that can be used as a place to store various cat litter items and a bottom platform that you place the actual litter box.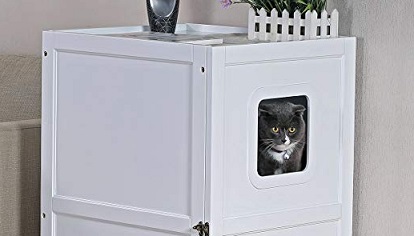 The cool thing about this Double-Decker design is that your cat has to jump to get inside.  This makes it extremely secure from your other curious animals (dogs in particular) that want to poke around inside.   And it gives your cat a good elevated watching point.  And the fact that your cat has to climb down to the lower level makes them feel even more private and protected while they go potty.
As for negatives: From a styling standpoint, this is probably one of the most inconspicuous designs.  It is too tall to be used as a nightstand or side table.  So it will be pretty apparent that it is designed for your cat.  For those who want something that "blends in" better, this may be a turnoff.  Also, the asking price is among the more expensive products we are reviewing.  But the build quality is great and your cat is sure to love it.
---
Good Pet Stuff Company Hidden Cat Litter Box
The final product we will be discussing is a bit different than anything else.  Instead of designing around a table or counter, Good Pet Stuff mixes things up and hides your cat's litter box in what appears to be a clay pot with a plant on top.
This design is not only really unique but is also very compact.  This makes it great for small houses or apartments that don't have space or need for another tabletop.  You can stick this in just about any section of your house and it will take up only the most minimal amount of space.  And that fact that it is round means that you can turn it to the front or sides depending on your liking and your cat will still have easy access.
As for getting to the litter box for cleaning, you lift the top half of the "clay" pot off of the bottom half.  This might seem like a challenge but the polypropylene material used is extremely thin and lightweight.  And once off, you have easy overhead access to the litter box inside.
The main benefits of this design (outside of space-savings and simplicity) are the cost.  It is extremely affordable and among the lowest-cost options that we are reviewing.  There is also a nice carbon filter that can be placed on top that helps to absorb odors.
But there are some potential issues.  First is the aspect of privacy.  This design will be one of the most exposed designs.  So if you have a cat that wants privacy, they may be turned off from using it.  Second is the fact that there are dealing with a fake plant that includes moss.  As some of you know, cats love getting chewing on fake and real plants so the moss and leaves that are included could not only create a mess but also pose the risk of a choking hazard to some cats.  So make sure that your cat is safe around fake plants before trying this one out.
---
Summary
We hope that you enjoyed this article about the best cat litter box furniture.  I think we can all agree that litter boxes aren't exactly the most attractive things to display in your home.  And seeing how most cats enjoy their privacy, finding ways to conceal these litter boxes from the outside is a great idea.
But depending on the specific needs of your cat and the layout of your home, certain cats litter box furniture pieces will work better than others.  And there are plenty to choose from!  Front access, side access, double-deckers, and even products that look like plants: there is something for everybody.
No matter which design you decide to go with, make sure to take your time when you introduce your cat to it.  Try to find something that is both comfortable for them to use and easy for you to maintain.  If you follow these steps, we are confident that you are sure to find a great new piece of furniture to add to your home!